EnjoyPBT Sushi Keycap Set Dye-Sub PBT
EnjoyPBT Sushi Keycap set is dye sublimated to showcase its rich teal blue legends on top of the pink Japanese accents. This sushi inspired set is manufactured with PBT plastic. 
EPBT Sushi Features:
PBT Plastic Material

Dye-Sublimated
Cherry Profile
117 Keycaps
MX Compatible
Includes:
1 EnjoyPBT Sushi Keycap Set

Customer Reviews
Write a Review
Ask a Question
02/28/2021
Valentin T.

United States
Pricey PBT keycaps
The ePBT sushi keycaps are aesthetically pleasing to the eye. The keys have a creamy color scheme with teal/pink text (think miami color waves) and the keys have a chalky feel to them as you slides your fingers from side to side. The downside to this set is definitely the price considering it costs nearly as much as a GMK set while most PBT sets are around $50.
02/07/2021
Kyle M.

United States
Almost perfect
As far as Divinikey goes as a company, their shipping time and overall responsiveness is fast. I've had nothing but good experiences when purchasing from here. When it comes to the sushi caps, I absolutely love them. But there is one fatal flaw that keeps them back from perfection: spacing. There are some egregiously visible gaps between some keycaps that simply can't be ignored. It's not entirely a deal breaker but just be aware of that if you're considering buying them. I otherwise love them to death.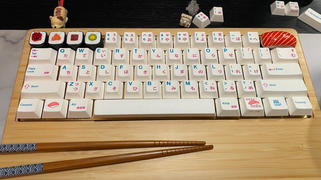 10/26/2020
Steven P.

United States
Could have been better
2 space bars came with broken stems. rendering them unusable. but the rest of the set is fine and is okay. i'm not too worried about the space bars but still 4/5 because of it.