TTC Bluish White Tactile Switches
TTC Bluish White features a unique, medium-tactility switch with a double coil long spring, silicone muted bottom, as well as a dustproof stem. By being a medium tactile switch with a light spring, it offers a snappy tactile without feeling too heavy.
TTC Bluish White Features:
10 included in each pack
Tactile
Manufactured by TTC
MX Style
Pre-travel: 2.0mm
Tactile Position: 0.5mm
Total Travel: 3.5mm
Bottom-Out: 42g
Silicone Dampener

Includes:
10 TTC Bluish White Switches
Customer Reviews
Write a Review
Ask a Question
06/19/2021
Andrew N.

United States
Soft bottom out, standard top out tactile
These have a medium, P-shaped tactile bump, and come with a long spring like the Gold Pink does except this is a 2-stage one. While 2-stage springs are supposed to offer a stronger upstroke and firmer downpress I don't have any other 2-stage springs to compare them to and honestly they feel like any other switch to me. The most interesting thing about these switches to me is the dampened bottom out and standard top out sounds. I think it's a nice compromise for those who want something in between a standard and a silent switch. Sometimes I'll put a silent switch in my spacebar and can definitely see myself using one of these instead.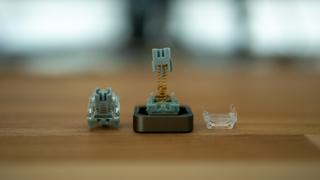 06/15/2021
Russ

United States
Very Unconventional, but in a Good Way
To begin, yes these switches only have dampening on the downstroke so if you were looking for a fairly cheap silent tactile, this might not be the switch for you. I'm typing this review on a Portico with TTC Bluish White that have been lubed with Tribosys 3203. The tactility on these switches are much more than a MX Brown or MX clear but less than a T1 or Zealio. They're of decent smoothness out of the box and have factory lube, which is inconsistent. Thankfully you are able to lube right over the factory lube without a hitch. Now onto the strange stuff. This switch only has dampening on the down stroke, meaning that you still get the housing clack from the upstroke. How does this affect typing? Well, it makes the switch feel like Topre in that there is that softer and somewhat thockier downstroke sound that is followed by a higher pitched clack. Only this time we don't have the rattle that comes with Topre type keycaps. And then if you couple this with a fairly reasonable tactile bump, you get something that can closely resemble Topre in mechanical form. As a fan of Topre, I consider this a win. I would recommend this switch for people who really want to try something strange in a world of round tactile bumps