Customer Reviews
Write a Review
Ask a Question
09/22/2022
Jeff S.

United States
Pretty great
I've liked them a lot so far. I've used them at work today for the first time leaving them stock for now and they are interesting switches. They're high quality and well designed. The sound, the spring, and the smoothness are my favorite things about this switch. The sound is so solid and pleasant. I think I like it more than my L&F Alpacas. The spring is really great. It's the first super long spring I've tried and it's very different from what I'm used to but I like it for a few reasons. The long spring gives it a very bouncy return which at first I thought would tire my fingers out but when I'm typing it doesn't at all. In fact, it seems like it provides somewhat of a tactile feedback experience because I can tell that I've hit that key due to the bounce. I noticed my typing accuracy seems better than normal on these switches but that may be in my head. The bounce is also well balanced with the shorter travel from the long pole stem. At 58g I thought these would feel a lot lighter but because of the long spring and the noticeable upstroke, they end up feeling a tad heavier than 58. I have 60g multistage springs that feel lighter, which is interesting. I think it's the best spring I've ever tried. And not an iota of spring ping, completely stock. We've come a long way when you consider the price. The demand for buttery smooth switches right out of the box is satisfied with these I would say. They aren't perfectly smooth at first but after 10-20 keystrokes they start feeling like they've been lubed already. I don't think I will lube them because I can't imagine them getting much better. I might play with films later on though. The last comment I'd make about these switches is that there is more wobble than I would like. It's not terrible wobble but it's definitely got some wobble. So far it hasn't bothered me at all which wobble normally bothers me a lot but something about the springiness of the spring compensates for it a little bit. The keys don't really feel like they're moving around when my fingers are at rest. That's the only negative I've found so far. Overall, I'm really happy to have these. They're a pleasure to type on and compare to much higher priced switches right out of the box.
09/30/2022
Cooper

Canada
Very, Very Smooth
I used to think I preferred tactile switches, but when I realized the tactiles I was using were so close to being linears, I decided to try some straight up linear switches. The JWK Blueys are the second linears I've tried, and I'm very pleased with them. They're exceptionally smooth and easy to type on, have a nice sound profile, and just feel so much better than the cheaper linears I was using. They're totally worth the money. Build quality was good. One of the switches I got had a very small bit of plastic hanging off that needed to be removed, and I only had to straighten out two pins that looked a little bent before installation. All of them worked right away and I can safely say these switches do not need extra lube. I know my sample size for comparison is small, but I think I chose a winner with these Blueys and will be using them from now on as my daily driver for typing and gaming.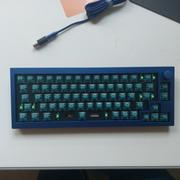 Hi Cooper, thank you for your kind words and feedback! One of the main points we wanted to achieve with the Blueys was that it was great out of the box and glad you felt the same.
09/24/2022
chuck

United States
Smooth, light and wobbly
Feel plenty smooth and the light spring isn't so smooth that I accidently press them. Glad I only got one bag because these are too wobbly for me, hope they fix it with a .v2 because I really like these. stickers is back yah! #1 DK