Customer Reviews
Write a Review
Ask a Question
TLDR: Keychron Q8 is Almost Excellent
Divinikey, continue doing what you guys are doing. Fast shipping (at least here in California) and excellent arrays of keyboards and items to buy from. Anyway, TLDR: this Keychron Q8 is excellent (but could become better with mods and third-party foam). Been following Keychron for quite a while now (way before their introduction of the Q Series keyboards). When I saw that Keychron was planning to mass produce this Alice/Arisu keyboard I immediately knew that I wanted one. Out of the box, the Q8 barebone is a pretty decent board. Good and hefty CNC aluminum build and design. Really love the knob and the south-facing RGB is bright (almost too bright). Although good, there was some audible case ping and hollowness. The reason for this is, sadly, there is no case, PCB, or plate foam in this Q8 unlike what they did with their other Q Series boards. To "fix" some of these shortcomings of the Q8 I went ahead and bought a poron foam kit (Plate + PCB + Case Foam) & POM plate from Keyboard Kustoms. I ended up using all 3 foams and it definitely help with the hollowness but as a result, made the Q8 less flexible to type on. So in the end, it is user preference on how much foam you want to add to the board. As for the case ping, a good old force-break tape mod to the bottom and the top case does the trick just fine. Other changes and additions I made to the board were: - remove the included tape mod from the PCB. - Switch out the stock steel plate with the Keyboard Kustoms POM plate. - Switch out the stock stabs with Owlab Owlstabs V2. - Hades Switches (Black Stem Version) - lubed and filmed. - TMT Story keycaps Overall I would highly recommend the Q8 to anyone who is curious about the Alice/Arisu-styled keyboard and is willing to put in a couple of hours of work to make it sound much better.
09/09/2022
KC S.

United States
Keychron Q8
The Q8 (Alice) Barebones is great, easy to set up through VIA. The gaskets are really nice and makes the typing experience a joy. Overall the Q8 (Alice) Barebone Keyboard is awesome and I would definitely recommend to my friends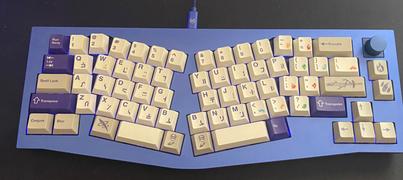 08/24/2022
Chris C.

United States
Keychron might have missed their mark on this one
Divinikey was excellent per usual; super fast shipping with no problems. Keychron may have missed their mark on this model. No matter how much you mod it, it sounds very, very hollow. The only way to get rid of the pinging sound from the case is to shove lots of foam, at the cost of killing the flex of the board.