Customer Reviews
Write a Review
Ask a Question
02/12/2022
Chris

United States
Odd Box Switches
These are pretty weird switches, let's start there. They have Kailh latches but my standard Kailh opener doesn't seem to work on them, the bottom housing is just barely too wide to fit. Also it seems they don't really take films that well, the rails are just a bit to wide for standard films (Deskey, Durock) and even if it force it around the whole thing is too tight. They appear decently factory lubed but not much on the actual stem. Dual stage gold spring is nice and gives them a nice press-feel. The sound is pretty good overall, I have struggled to take them apart to lube them but in the few I've tested they have a lower pitch clack and are decently loud. Stem wobble is pretty minimal. I'm a fan of the design, color but I think I'm going to find it difficult to mod them to my liking.
02/23/2022
Eric

United States
Great sound and feel, tough to mod
These switches had a light lube on the stem and medium amount of lube on the spring from the factory. Smooth and quiet actuation. On full keypress, the sound is clacky and on the louder side. Deeper and a little quieter than something like the Gateron CJ, which I describe as a "poppy" switch. Stem and housing wobble is minimal, with no discernible ping from the gold spring. Although sound and feel out of the box were excellent for a stock switch, I wanted to see if it could be improved with KBDFans switch films, Krytox 205g0 on stems, and Krytox 104 on springs. KBDFans switch opener worked great (Kailh style housing). The KBDFans switch films were tight and the housings were difficult to close, but doable. Once that was out of the way, I mounted them on an aluminum plate paired with KBDFans poron switch pads on a mill-maxed pcb (board is a Lin Dolphin 2021). The typing experience is fantastic, in my opinion - I like clack, and the mods have deepened the sound. I would say the downsides of this switch are the price and the difficulty of modding them. That said, I don't think the mods I did made a huge difference - the switch would have performed very well in stock form.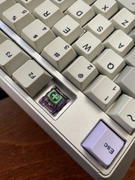 02/24/2022
Chris

United States
Looks great and sounds great!
I purchased these switches to use in my Keychron num pad and they look and sound amazing. I personally prefer the sound and snap of a two stage spring, not to mention the shape of of the stem. This style of MX connector makes centering and attaching keycaps simple and solid. Love to see some more obscure colorways.