Customer Reviews
Write a Review
Ask a Question
10/11/2023
Dina C.

United States
Super satisfying, but a couple of quirks
Love this keyboard and it's definitely a great innovation getting this type of thock onto a low profile build! The only thing left desired is that the keycaps themselves aren't a great fit for the LEDs, they are rather see through so you can see the dots of the light bulb quite clearly instead of a diffused glow. I also wish I could have customized the keycap colors with the switch type at the time of ordering. I would have preferred tactile with white, which isn't an option.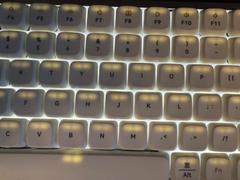 10/10/2023
Jorge G.

United States
Best low-profile board out
The best out of the box board that you can buy on the market right now, I have the Phantom tactile switches and these have a great bump, more than a brown but not quite a U4t. It a smooth "P" shape feel. The stabs have 0 rattle, the internal dampening is great and muted. The Bluetooth pairing is quick and smooth also. The caps are double shot PBT and thick
10/21/2023
Jeffrey W.

United States
Good keyboard!
Good acoustics and no rattly stabs out of the box, switches use the standard MX style stems so it will fit most other keycap sets. Wireless mode has some noticeable latency, so not good for gaming but perfectly fine for office work. Switching bluetooth connections is super easy and fast, battery life also seems great with backlight set to low brightness.