H1 Switches are designed by Quad H as a modern take on the vintage Cherry MX Blacks. Manufactured by JWK, these popular switches have attracted many enthusiasts for their smoothness and deeper sound signature.
H1 Switches Features:
10 included in each pack

Manufactured by JWK
Linear
78g Spring
POM Stem
PC Top Housing
Polyamide Bottom Housing
Travel: 4.0mm
5-Pin PCB Mount
Includes:
Customer Reviews
Write a Review
Ask a Question
06/19/2021
Andrew N.

United States
Supposed a unique JWK, but I can't tell
The H1 is a little confusing to me as it's supposed to offer a deeper sound signature than your standard JWK/Durock switch, but when I compare my Just Typing videos they sound very similar to me. They weren't modified the same with my Durock Linears having TX film while my H1s have Deskeys, but even then I expected more of a difference. I haven't taken a close look at the bottom and top housing molds as I typically don't care about that sort of thing so if there is supposed to be a difference I honestly can't tell. What I do know is the build materials are the same. The POM is stem, the top housing is polycarbonate, and the bottom housing is polyamide. Interestingly enough my Durock Linears are smoother than my H1 batch.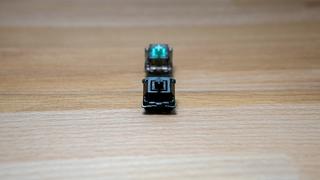 Smooth with a nice clack.
These switches are extremely smooth and have a nice clack to their bottom out. In addition to this, they have hardly any spring ping(if any at all). They are definitely similar to MX Black retool/hyperglide switches. However, the MX blacks have a lot more scratch to them than the H1 switches. Paired with some light lubrication and switch films(and maybe a spring swap if 78g is too much for you) these switches make an excellent addition to any keyboard I put them in.