Customer Reviews
Write a Review
Ask a Question
06/19/2021
Andrew N.

United States
A fun, lightweight linear
I didn't really know what to expect with the Gold Pink switches though I was curious to see how I'd like them given that they're a lightweight linear switch. When I opened up the first switch to lube I was surprised at the hilariously long spring. The sound is way higher pitched than I expected which is a pleasant surprise given that I prefer higher pitched switches. Even after lubing with Krytox 205g2 there's a bit of scratch leftover which I imagine will fade with some breaking in. It reminds me a bit of the Cherry scratch characteristic which some people enjoy. I think they're decently smooth and fun to type on. Surprisingly I actually like how they sound with my SA keycaps.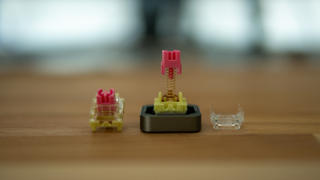 11/15/2021
Justin C.

United States
These switches are nutty
The GOAT Andy V Nguyen put me on these switches and wow are they smooth and clacky. I really don't hear any spring ping or scratch, and that's all thanks to the factory grease/lube. Housings are tight too! Would recommend if you're on the market for a clack linear, don't want to lube and film, and can handle the lower spring weight.
10/01/2021
Hans s.

United States
Clicky but very smooth
Preety good . ………