Customer Reviews
Write a Review
Ask a Question
01/24/2022
George B.

United States
Very nice key cap set
These are a very nice key cap set. I thought when I bought them that I was just going for a retro-typewriter style look for my keyboard. But after putting them on I realized that it was more than that. These key caps have a classy style and elegance to them. And typing on them is a great experience. I couldn't be more pleased with the feel or the sound of them on my keyboard. I tend to switch key caps every week or two just to kind of mix things up, but I doubt that these will be coming off my keyboard for quite some time.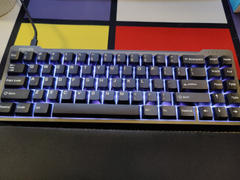 They are good BUT...
Great keycaps BUT my aqua kings are very loose so not sure if I would recommend these.
04/21/2022
Craig

United States
Sloppy Legends
Decent keycaps, but I was really hoping for better quality. The plastic is rougher than I like, I was hoping for a smoother cap like my high quality PBT keycaps, but that is subjective. The part that is particularly disappointing is the quality of the legends. They are far sloppier than every other keycap set I own. Thickness of the characters in a word can very greatly from one letter to the next, and the shape of the letters feels unstable. The letter keys are much better. Those look bold and stable. But anything with smaller characters doesn't fair well. On the plus side they're reasonably thick and have good sound and the bottom edges are clean. But it's just really unfortunate that they've ended up being a bit of an eye sore when I was really hoping for an ultra clean look. (I also purchased the BoW set and will be posting the same review for those)